地板采暖系统英文版介绍PDF:
http://www.bjht.com.cn/upload_files/article/316/1_1399877568_9846471.pdf
http://www.bjht.com.cn/upload_files/article/316/1_1399877574_7051833.rar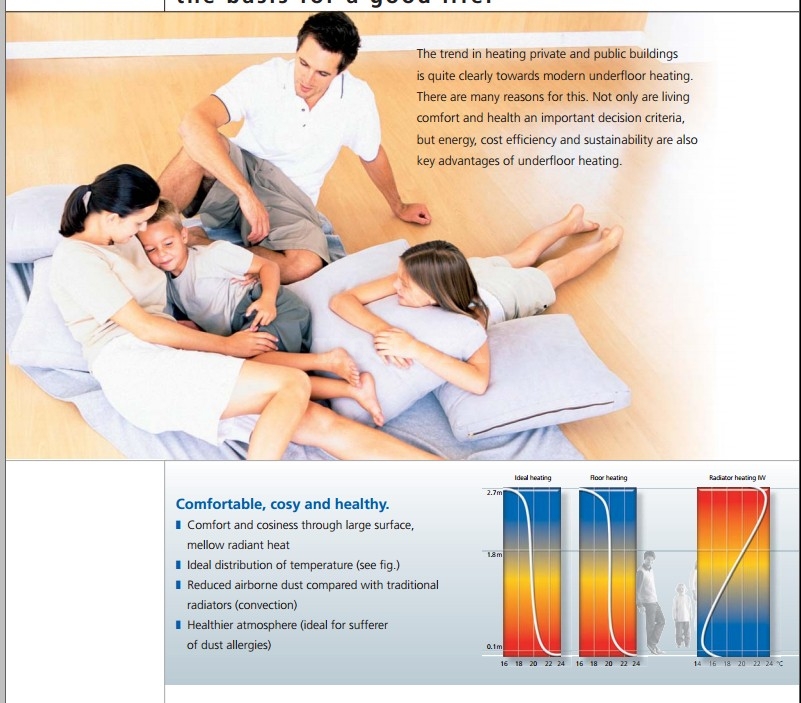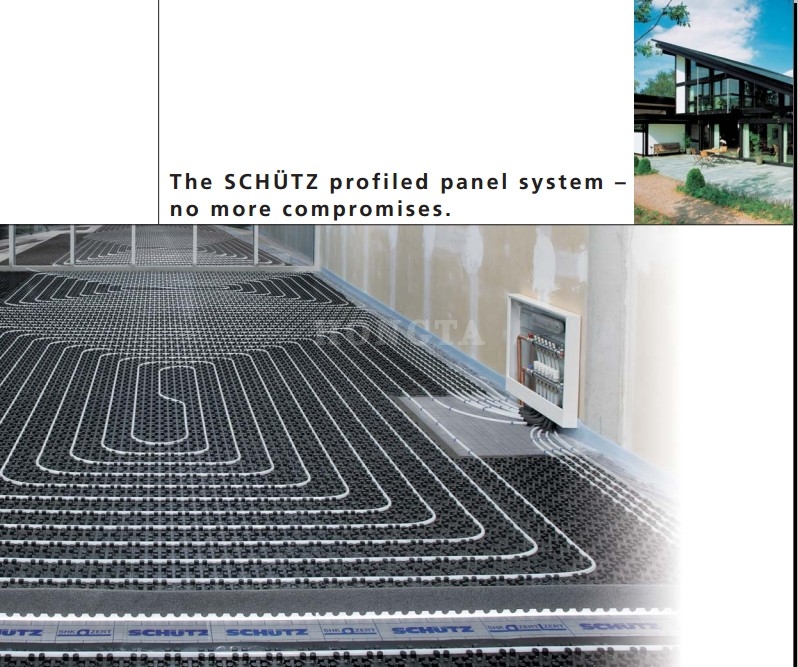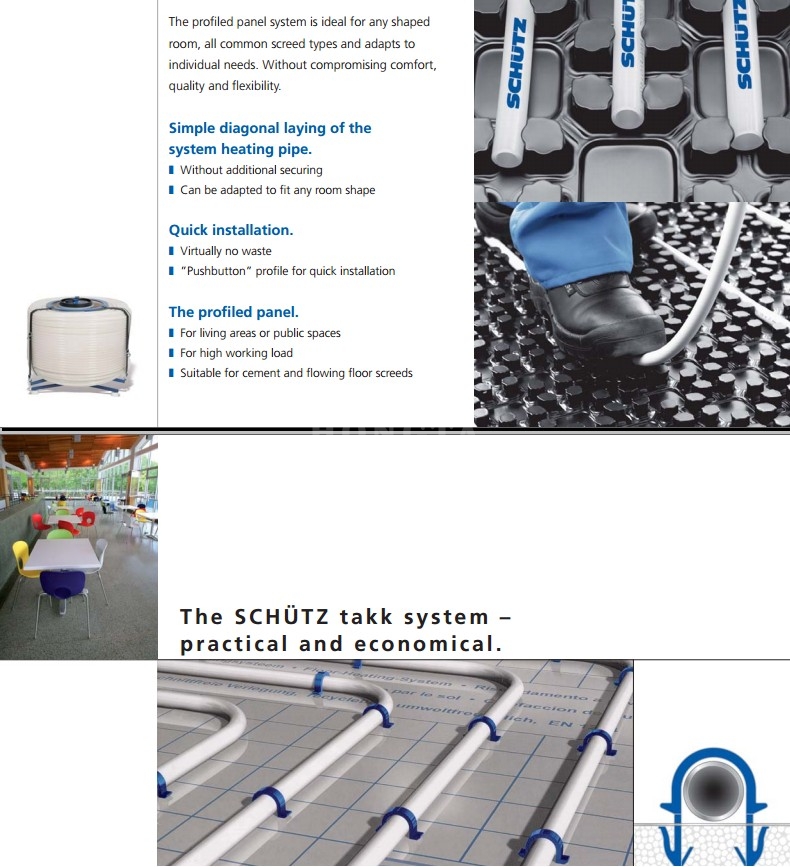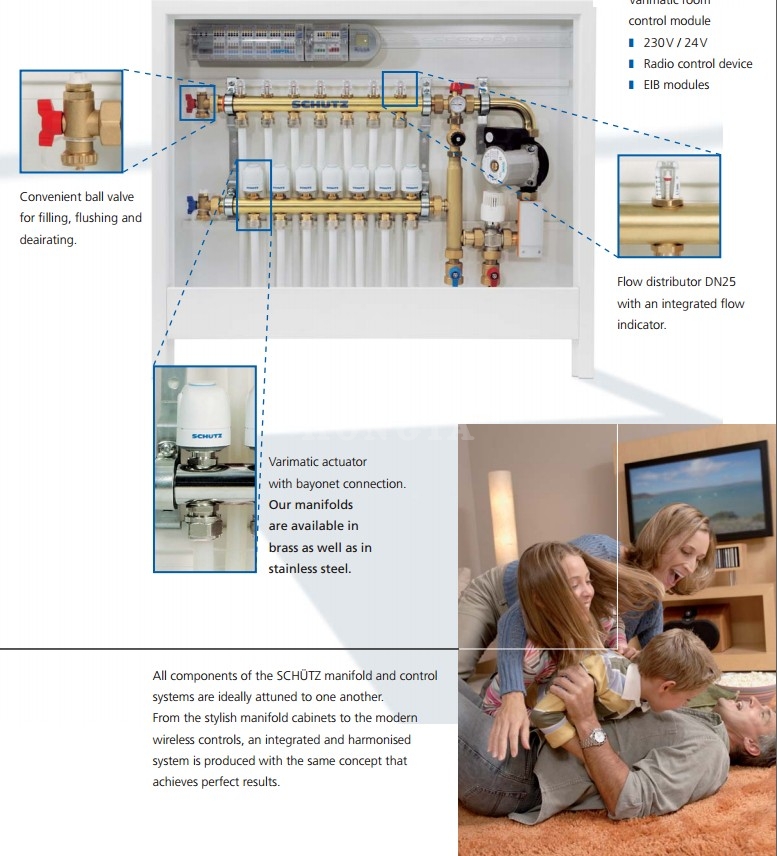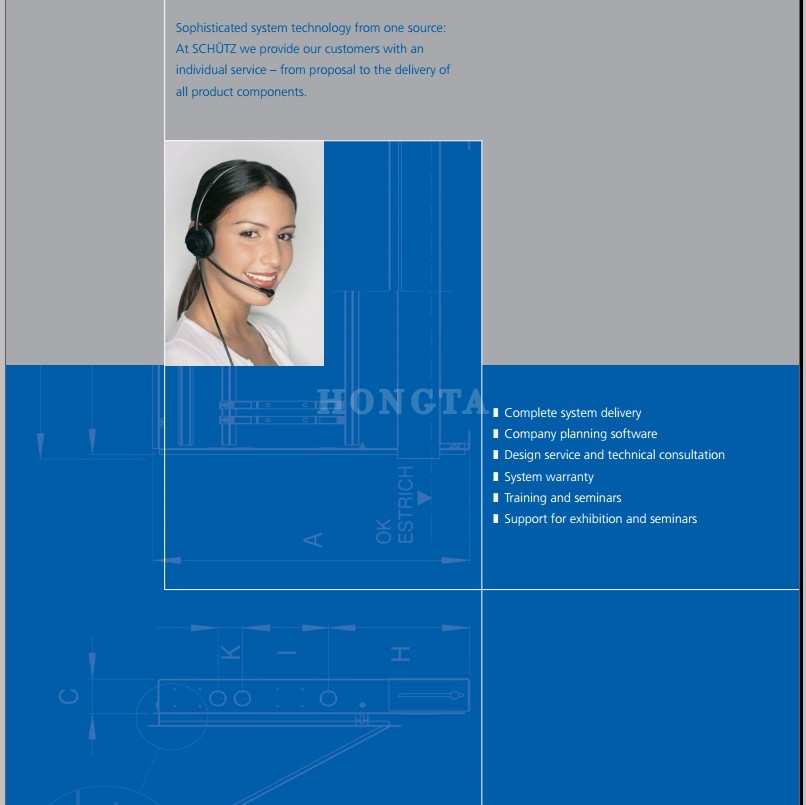 UNDERFLOOR HEATING SYSTEMS
System solutions
for today
and tomorrow.
Modern underfloor heating by SCHÜTZ –
the basis for a good life.
The trend in heating private and public buildings
is quite clearly towards modern underfl oor heating.
There are many reasons for this. Not only are living
comfort and health an important decision criteria,
but energy, cost efficiency and sustainability are also
key advantages of underfloor heating.
Comfortable, cosy and healthy.
❚ Comfort and cosiness through large surface,
mellow radiant heat
❚Ideal distribution of temperature (see fi g.)
❚Reduced airborne dust compared with traditional
radiators (convection)
❚Healthier atmosphere (ideal for sufferer
of dust allergies)
Ideal heating Floor heating Radiator heating IW
2.7m
1.8 m
0.1m
16 18 20 22 24 16 18 20 22 24 16 18 20 22 24 14 °C
Economical, long-lasting and green.
Low flow temperatures of underfloor heating in combination with modern heating generators such as condensing
boilers, heat pumps and solar panels cut energy costs
by up to 13 %.
with radiators with low-temperature
underfloor heating
Primary energy consumption
-13%
Calculation according to DIN 4108-6 and DIN 4701-10/12
SCHÜTZ – the name for innovative solutions.
SCHÜTZ underfloor heating systems, that are complete system solutions
developed and tailored to your needs. All integrated components supplied
from one source.
We invest in your future.
❚ Permanent innovation management
❚ Continuous product optimisation
❚ Constant improvement of the energy balance
❚ Quality management according to ISO 9000/9001
At our headquarters in Selters and at international sites more than 2,500
employees develop and produce solutions to meet our customers demands.
SCHÜTZ –
our knowledge is your strength.
Slabstock foam cutting machine
PE-X pipe production
SCHÜTZ – all from one source.
This ensures quality, cost efficiency and facilitates
effective planning, ordering and order processing.
❚ All components produced according
to EN 1264
❚ System components attuned to one another
❚ Production in Germany
❚ System warranty
The SCHÜTZ profiled panel system –
no more compromises.
The profiled panel system is ideal for any shaped
room, all common screed types and adapts to
individual needs. Without compromising comfort,
quality and flexibility.
Simple diagonal laying of the
system heating pipe.
❚ Without additional securing
❚ Can be adapted to fit any room shape
Quick installation.
❚ Virtually no waste
❚ "Pushbutton" profile for quick installation
The profiled panel.
❚ For living areas or public spaces
❚ For high working load
❚ Suitable for cement and flowing floor screeds
5
Schütz takk panels ensure that laying is efficient, and time and cost effective.
❚ Simple laying with any room shape
❚ Secure heating pipe installation through special layer of woven fabric
❚ Economical material use – laid without waste
The SCHÜTZ takk system –
practical and economical.
quadro-takk – the square folding role.
A brilliant principle: perfect laying properties, simple
transport and storage.
The 8mm "takk" staple provides secure fixing
of the SCHÜTZ heating pipe.
"Erwin", the handy installation tool, provides fast
and safe assistance with the tacking.
The dry panel from SCHÜTZ guarantees maximum ease of installation.
Panel thickness of 25mm or 30mm prove beneficial in old buildings and
redevelopment projects.
❚ Quick and simple installation
❚ Economical use of material
❚ Maximum flexibility
❚ Zip technology for easiest installation
❚ Tested for construction with dry screed panels*
The universal heat
diffusing plate allows
meander or "snail"
shaped circuit design.
Heating pipe easy to insert with the foot.
The tri-o-flex multilayer pipe by SCHÜTZ is oxygen
diffusion-proof and ideal for dry construction floor systems.
* Please observe the specifi cations of the manufacturer when using dry screed.
The SCHÜTZ dry panel
system – convenient.
All components of the SCHÜTZ manifold and control
systems are ideally attuned to one another.
From the stylish manifold cabinets to the modern
wireless controls, an integrated and harmonised
system is produced with the same concept that
achieves perfect results.
The SCHÜTZ manifold and
control systems –
tailor-made from one source.
Varimatic room
control module
❚ 230V / 24V
❚ Radio control device
❚ EIB modules
Convenient ball valve
for filling, fl ushing and
deairating.
Varimatic actuator
with bayonet connection.
Our manifolds
are available in
brass as well as in
stainless steel.
Flow distributor DN25
with an integrated flow
indicator.
❚ Complete system delivery
❚ Company planning software
❚ Design service and technical consultation
❚System warranty
❚ Training and seminars
❚ Support for exhibition and seminars
Sophisticated system technology from one source:
At SCHÜTZ we provide our customers with an
individual service – from proposal to the delivery of
all product components.